Weeknotes 147: If you talk about cuddles, you get a cuddle
Started this week playing the "is it food poisoning or a bug?" game. Not one I'd recommend. Maybe stick with Zelda. Upshot was that we had no visitors staying as they, "don't want to crap themselves on the motorway home." Fair really.
Grandma was drafted in for some last-minute childcare—may she never move away—while everyone considered their options. She had the misfortune of taking her turn to bounce the Wee Free Man off the floor. It's a good job he's well padded. She was as shaken as I was when I did it. It's the noise and the lack of noise; the sickening clap of baby against the surface and the seconds—eternity—before he cries when you imagine he's not going to cry. Piglet reassured her with cuddles all afternoon. Then spent the rest of the week telling everyone and their dog about it. Piglet giveth, Piglet taketh away.
Walking in after two weeks off straight into giving a two day training course is one way to get back into work mode. It was surprisingly refreshing. No email drudgery and a legitimate excuse to make the "as per my previous email" crowd wait even longer. Heading into the office after the course to see everyone, heads down and noise cancelling, oblivious to the rain teaming through the ceiling confirmed the feeling. Piglet celebrated my return to work by painting my face as a butterfly when I got home.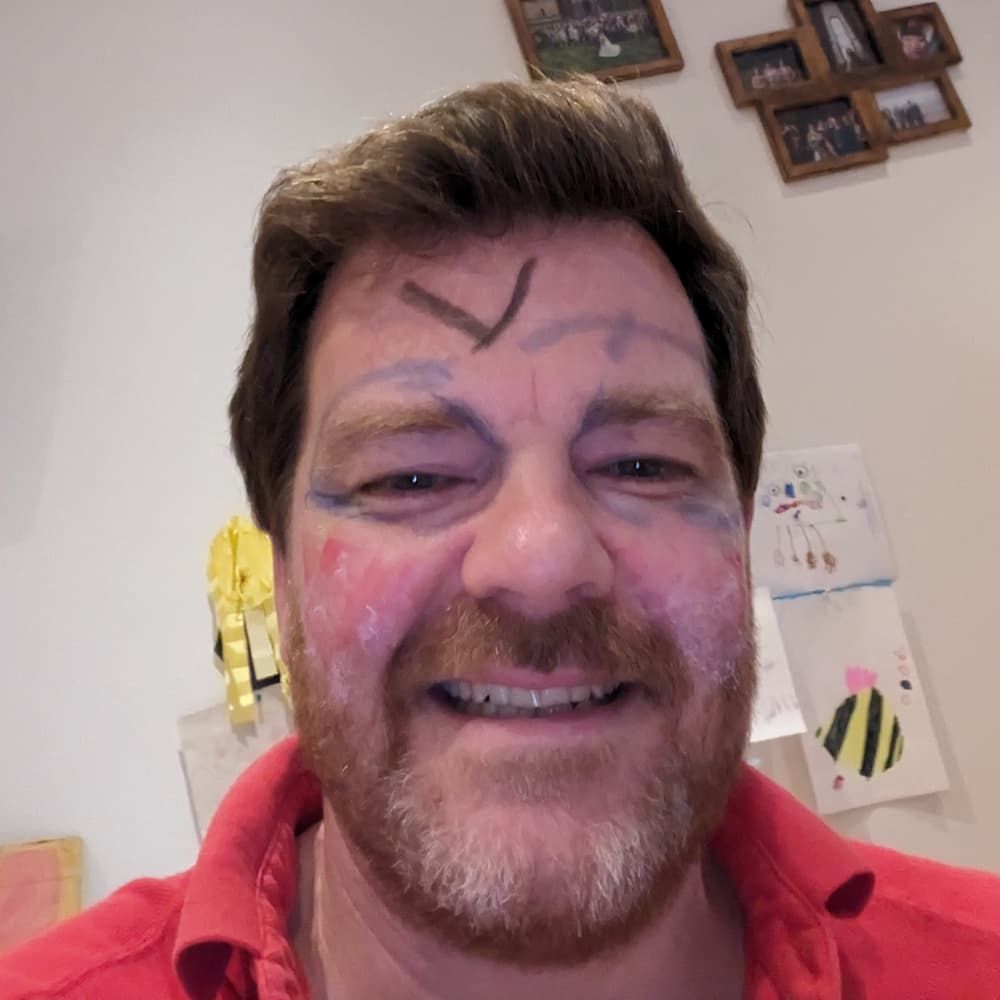 The Chef's excitement for the fried chicken place has been tempered by the website. I mean we're still going to try it. All the pilates have to be in aid of something.
Lǎoyé has safely landed in China and Lǎolao is going solo for the next few weeks. Started strong with a day in Seaton Delaval Hall. Piglet was so excited on returning home I nearly got my face painted again.
One of the many helpful things about morning pages is a clunky sentence that definitely gets deleted in the edit, but which is useful to write when thinking. A chance for first thoughts to become second thoughts. I'm more generous with a moment's reflection.1                                                    
The Wee Free Man has perfected his old man snores. Unrelated, we need to get his nursery ready for him to move out. He's currently utterly delighted by hair. Free entertainment and a guaranteed laugh track. Like his sister.
The Chef and the Wee Free Man had brunch booked on Saturday morning. Me and Piglet had grand plans to head round the shops and  to the park, but sacked them off in favour of jigsaw puzzles by torchlight under the covers. Tried getting her to listen to Joy Oladokun but she asked for Nick Cope instead.
On our second Junior Great North Run practice, Piglet was not feeling it. The heat was too much, even that early in the morning. Halfway round she turned to me to say, "There's too much running and not enough walking and telling stories." On a hot morning, cajoling a truculent child around, it's infuriating. But from the comfort of the couch, that's a good line. 
The World Cup final could have gone better, eh? Like the men's team in the Euros, beaten by a better team after a great tournament and it's hard to feel bitter. Disappointed not to get another Chloe Kelly interview. Soothed the sadness with a superb family Sunday dinner and drinks by the river.
The Wee Free Man finished the week with paracetamol. He's started on his teeth. He's had a go on the swings. Standing unaided for a couple of seconds too. He's not five months yet. With his sister we tried to ignore the competitive parent marking of milestones to enjoy her but, if I'm honest, there was a little bit of benchmarking going on. With him though the prevailing thought is, "What's the rush lad? Stay a baby for a while, please."
---
And it beats repeating, "Stop kicking your brother in the bits," over and over.↩︎
20 August 2023
---
Previous post
Weeknotes 146: I absolutely love it
By this point of the holiday, I no longer know what day it is. We started the week with discounted tickets for Gibside and a sunny picnic,
Next post
Weeknotes 148: This dog's ready for Zog
More Mondays should start at half ten. I'd taken the day off for my birthday and my first present was a lie-in. When I woke the house was empty