Weeknotes 146: I absolutely love it
By this point of the holiday, I no longer know what day it is.
We started the week with discounted tickets for Gibside and a sunny picnic, accompanied by a shy squirrel. They've added a play area to the gardens for the summer holidays and it's well set-up with good spacing between the stuff to encourage relaxed family play and sharing between random kids. We decamped to the stage area to put on a series of nonsense performances for each other. Following straight from last night's early night there was noticeably less whining. From everyone.
While waiting for Grandma to collect Piglet the next day, we looked over the Wee Free Man's gums—definitely teething—only to hear the sound of playing on the trampoline outside. Which is how we discovered Piglet is tall enough to reach the sneck and let herself out of the house. Time for another Talk.
She had a cracking time with grandparents, leaving us free for an anniversary meal and maybe one drink more than we should have had. Followed it with a truly romantic evening spent packing for a night away.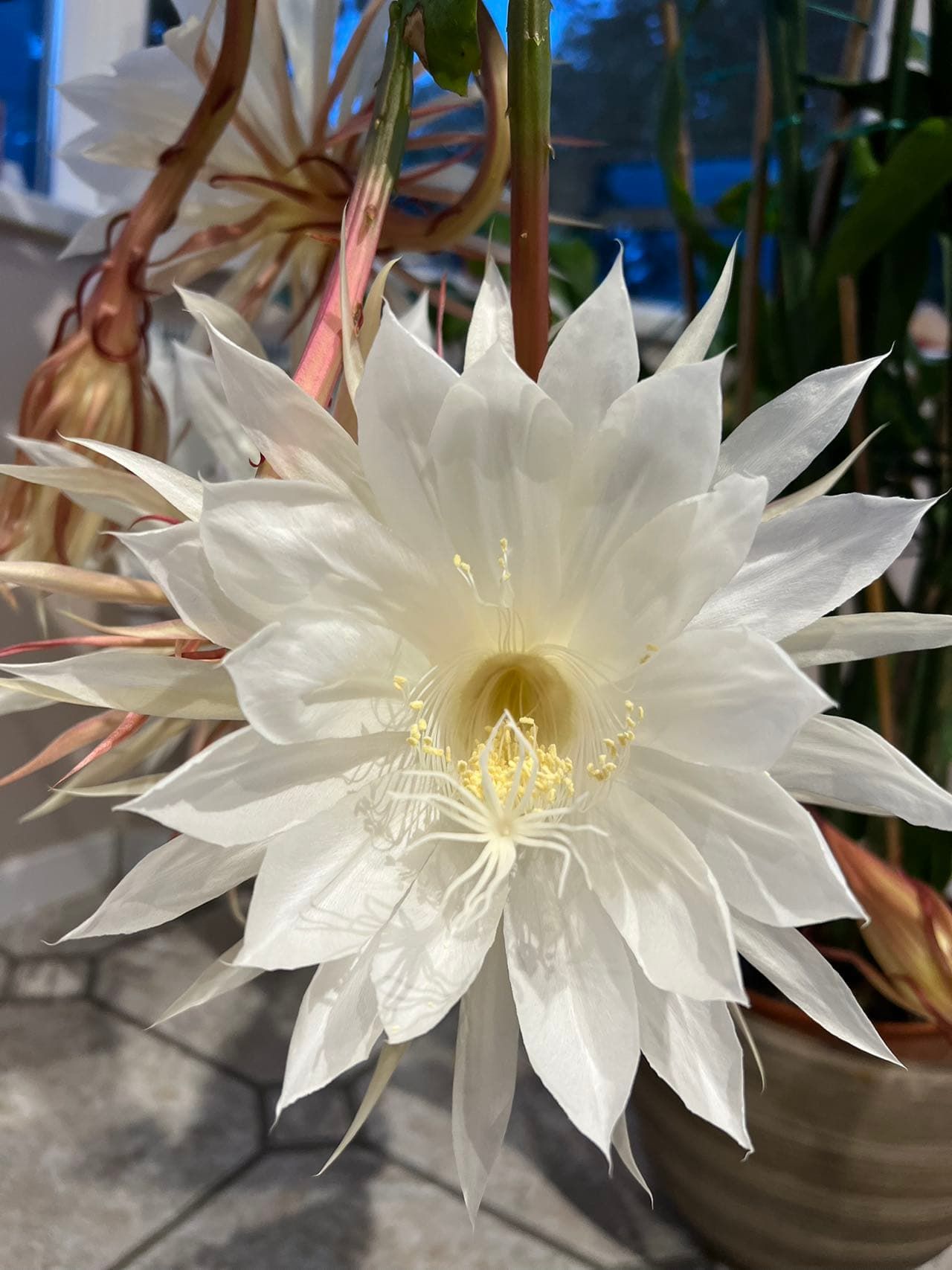 Fortunately for Lǎolao and Lǎoyé, their Queen of the Night epiphyllum flowered before they set off. It opens for one night of the year and this was the third year in a row they'd seen it. Nine blooms this time.
They were scheduled to arrive at ours for midday, once The Chef and kids were back from Artventurers and I'd finished packing. Instead they rocked up two hours early and I had to find distractions for them to stop them helping.
I still had time beforehand to learn Chopsticks on the piano. I'd never learned it as a kid and thought to myself, "why not now?" Took me longer than it would for Piglet—my brain has lost its plasticity—but was an experience I'd recommend without caveat. If you don't know how to play Chopsticks, get access to a piano or keyboard and spend an ill-defined number of minutes with YouTube open. If you're under twenty, first I'd ask you to consider why you're reading an old man blog, but second I'd reckon it'd be less than 5 minutes to master. I took longer.
On the topic of plasticity, the Wee Free Man has conquered grasping things to put in his mouth. It's a skill that looks to be autonomous and he'd learn it without teaching or example. The nature stage before our nurturing has any meaningful effect. The easy bit of parenting1 where we live alongside him and he raises himself.
Anyhow. With the car packed, we set off for Yorkshire Wildlife Park and our bell tents. As there was no pitching up to do and there was plenty of space in the field, I let Piglet sit on my knee and drive the car around in circles. The disposable BBQ did better than anticipated and we were full to bursting by bedtime. The on-site bacon butty in the morning was so good that I forgave them that I had to download yet another app to charge the car.
Like Edinburgh zoo, they have an animatronic dinosaur section which was an instant hit. The only hit of a too hot morning with too few animals and too long queues. The park we found for lunch saved a fractious day from turning to tantrums. Everything post-lunch was timed perfectly; leopards feeding, wild dogs hunting, lions feeding, lemurs napping, tigers roaring, otters playing, hyenas prowling. After 5 hours of relentless sun, piglet grew bored of the real animals and we headed back to be scared by the dilophosaurus again. Evolution served warm food an experience not dissimilar to this. It did what it needed. Inspired, we popped the kids into pyjamas before the drive home. And it worked! They slept most of the way and transferred to bed with no bother. A rare planned parent victory.
I wanted nothing more to flump on to the couch after all that, but I was heading back to Yorkshire for the Cricket Dads Away Day, so had to unpack, sort and repack the car before bed.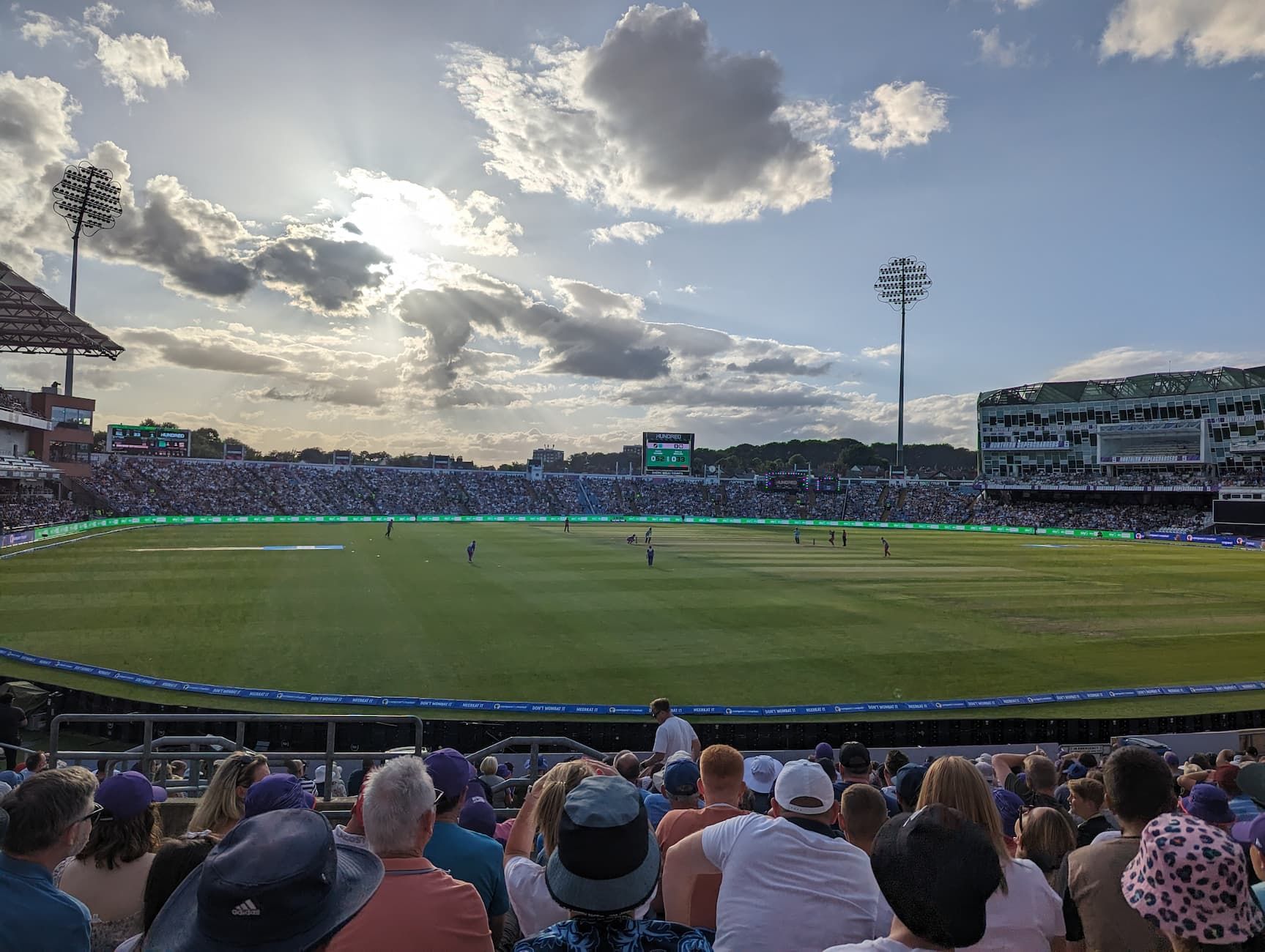 The Hundred is baffling if you follow cricket. It's mostly the same game, but wrapped in a confusing layer of branded pseudo-new stuff. We spent most of the game translating the shiny back to the old so we could follow along. Dad chat elsewise tended towards the middle-aged: families, plumbing and the turning of the wheel. The life-sized cardboard cut-out Matty Potts we nicked was good value around the pubs at least. We tried to give him away to some kids, but their dad was (sensibly) having none of it. I think we accidentally made him the bad guy for the car ride home.
10 am is an inhumanly early check-out time and I was hanging. It was good to read messages about The Chef's trip to the beach with the we'ens. The Wee Free Man's first metro ride. And courtesy of spillage, his first solid food too. Everyone was too slow to rescue the battered fish from his happy face.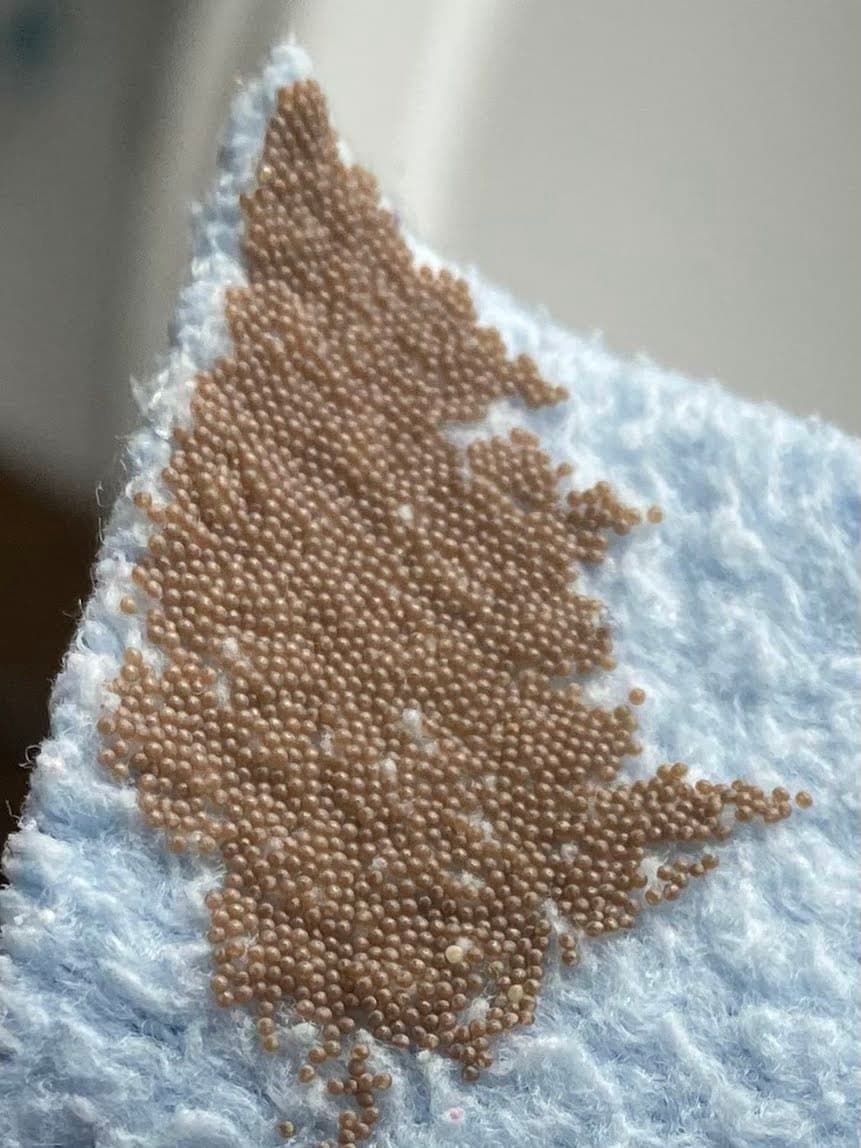 No-one was home when I got back. That nap might be the greatest of the last decade. Reborn after it. Collecting everyone from the baby shower, my only updates from Piglet were about the moth eggs and a reminder that she's four. It's her most proud achievement. The Wee Free Man sang songs to me and—we may be projecting here—started demanding "ilk ilk" when he got hungry.
The last day of the holiday was always planned as a mooch about town time. We visited the rocket had lunch in the best fried chicken place in Newcastle and smashed up some art. Piglet took a piece home to turn into a book of a gorilla smashing a building. I don't want to go back to work tomorrow. It's all been too much fun.
---
If you ignore all the sleep deprivation and dislocated anxiety.↩︎
13 August 2023
---
Previous post
Weeknotes 145: I'm going on the loggy thing
Northumberland in the summer tests the adage, "at least your skin's waterproof." The place was superb; fields forever, stargazing balcony, bedroom
Next post
Weeknotes 147: If you talk about cuddles, you get a cuddle
Started this week playing the "is it food poisoning or a bug?" game. Not one I'd recommend. Maybe stick with Zelda. Upshot was that we had no