Weeknotes 085: This isn't the wee wee dance
Mirroring last year's Bank Holiday, we went camping. And, as with last time, sorry these are late.
The build up to the loooooong Jubilee weekend was spent fruitlessly filling forms and feeling frustrated at work. Lucy Dacus on repeat helped. The break is welcome though. More so than usual.
It got off to a less than auspicious start. I professional-ed my driving by reversing into a car in the beach carpark. Fortunately, there was no damage and the person I'd backed into was beyond nice about it. The nearest cafe had an hour's wait for takeaway. With Piglet hangry and ratty while she adjusts to her dropped naps, I set off ahead to get fish and chips. After a hefty queue I was told that, in the year of Our Lord 2022, they're cash only. By this point the rain had started. When I made it back I found The Chef stripping pee-soaked clothes off Piglet. We cut our losses, popped Piglet in the only dry clothes we had—her swimming costume—and headed for the campsite.
That was the point the world turned.
The campsite was unabashedly lovely. The sun returned. Piglet refusing to take her costume off, helped me put up the tent, stopping only to point out that she's a crocodile. Lumpwood continues to never fail. And neither does Charlotte. With no lights, phones or bloody deadlines I had the deepest sleep I've had in months.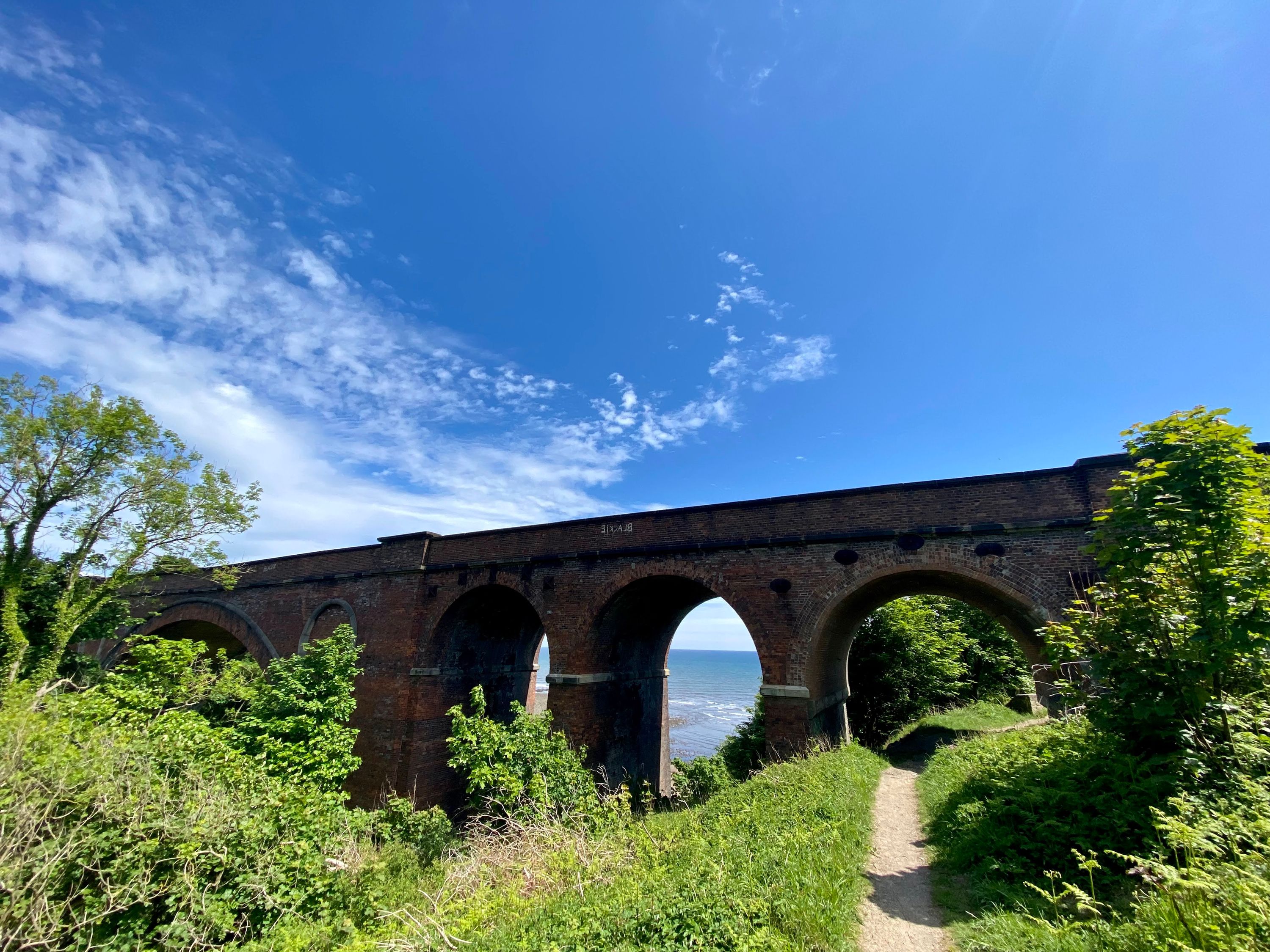 We opted for a lazy start, cuddling in the sleeping bags before setting off for a coastal walk. Piglet besotted by the paragliders. Or in her words, "no! The parachutists" and pointing to aeroplanes. Noticeably more than when we camped between Covid lockdowns. I've seen it at work too. Travel is back. It's a good thing because people are having holidays and seeing loved ones again, but I've a small sadness for the empty blue skies. Only partially in a Station Eleven kinda way.
At the height of the afternoon we doubled back on ourselves before we accidentally gave the toddler a half marathon to complete. We snuck down Hawthorn Burn to a secluded beach. I couldn't shake a dissociative feeling that we were in Scotland rather than 20 miles from home. Probably all the brick rail bridges. Instead of splodging in the sea, Piglet chose the stagnating burn. At this point it's worth noting how much she hates a shower. And we're camping. The entire campsite was made aware of her feelings that evening.
Post-trauma, she could put her camping onesie on. It's a big multi-coloured thermal that she's been pulling out of her wardrobe for weeks to cosplay as a fluffy teddy. She loves it. The perfect succour to a shower before our now traditional guanciale camping pasta.
With a British turn to the weather, we headed for Locomotion and boy, does the designer want you to know that they've designed that logo1. Piglet got to dress up in wartime fancy dress and it's a shame bowler hats for toddlers have gone out of style.
A trip to Durham to recharge the car and our stomachs was faintly disappointing. To cheer ourselves we took Piglet to see the Wear and get a calippo. If ever you need to laminate a child, don't bother trying to squeeze them through an expensive printer.
We'll never head straight home on the back of a sub-par meal. Once the tent was down the next day, we called in to Barrio Comida and, woof. If you're in Durham, don't skip it. Bertie's Play Barn is decent too if you need to work off toddler beans before a car journey.
Back home we could appreciate the comfort of our bed, the acceptance of nap backsliding and just how big Piglet looks when she lets herself into her old room to climb in the cot.
The Alphabetti Theatre featured in a Guardian write-up of Newcastle and I'd never heard of it. Looks cool. We've booked tickets.
Oh, and I guess, Happy Anniversary Liz! Sorry we missed it. The signal's not great in the countryside.
---
It's the only National museum in North East England. Naturally, the architects are headquartered in London, but they at least have a national footprint. More offices in Abu Dhabi than the North East, but let's be grateful for getting a museum first. When we get a second one, we can build it ourselves. The third we might get to tender too. We're not getting a fourth.↩︎
5 June 2022
---
Previous post
Weeknotes 084: One is a sticker and one is a tooth
I wrote last week's vibe check while The Chef slept and Piglet bounced on her bed singing every song in her repertoire. It was after 10 pm at this
Next post
Weeknotes 086: When Mama was teeny-tiny I gave her a bunny.
Overheard in the greengrocers: "What's pesto?" "It's an Italian sauce that's, erm, from Italy" Lovely stuff. After a morning trying