Advent of Bloggers: Day 4
For the fourth day of Advent of Bloggers let's cheat with another newsletter. But I think this one is essential reading for staying up with a particular flavour of the internet.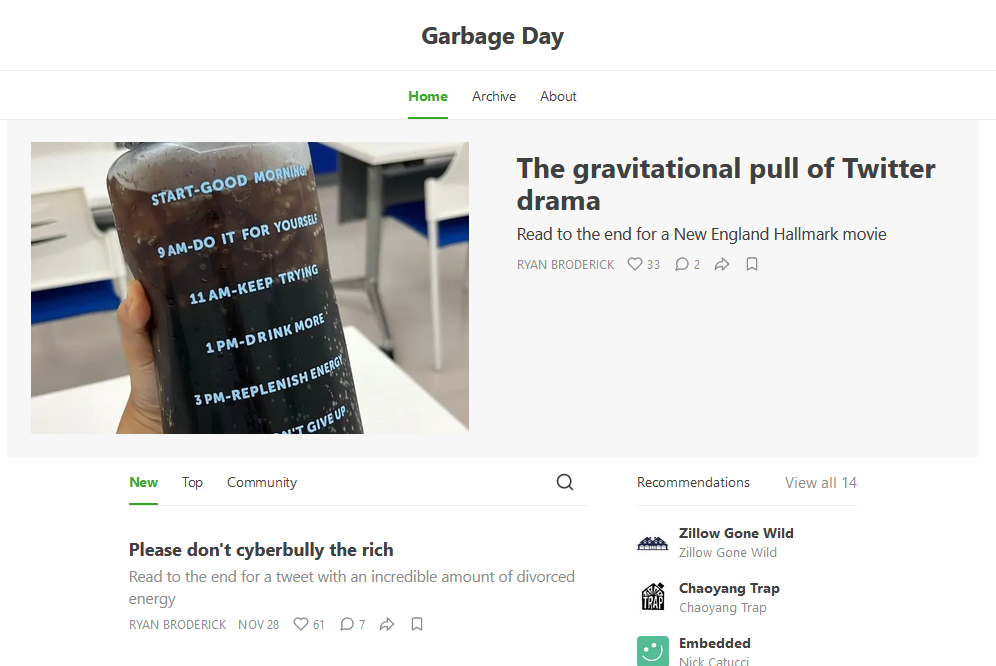 I gave up trying to keep up with the yoof years ago. Too much time online wasn't a healthy or wise use of life. But I miss understanding memes. The compromise was to let someone else distort their brain and summarise it for me. Ryan Broderick's Garbage Day is that brain rot. It covers the zeitgeist—in as much as their is one online—in a critical way. He's happy to call web3 a pile of ponzi bullshit. And it's littered with funny tweets and TikToks that I was never going to see myself. If the phrase "oh no they're trying to milkshake duck jorts the cat" made no sense, give it a try.
If you liked this, try this instead
Sometimes we all need to step away from the desk. Monty Don's monthly garden tips are the antidote to hearing about right-wing meme attacks on Tumblr.
4 December 2022
---
Previous post
Advent of Bloggers: Day 3
Are newsletters eligble as blogs? I read them in Feedly and don't need to know if they originate with substack or not, so for the third day of
Next post
Weeknotes 111: She's shaking her head. It's a no.
#Backlog