Weeknotes 154: He's a flirt, isn't he?
If ever you've hung something on a fence and wondered if it was futile, it's not. Look at that bobby dazzler.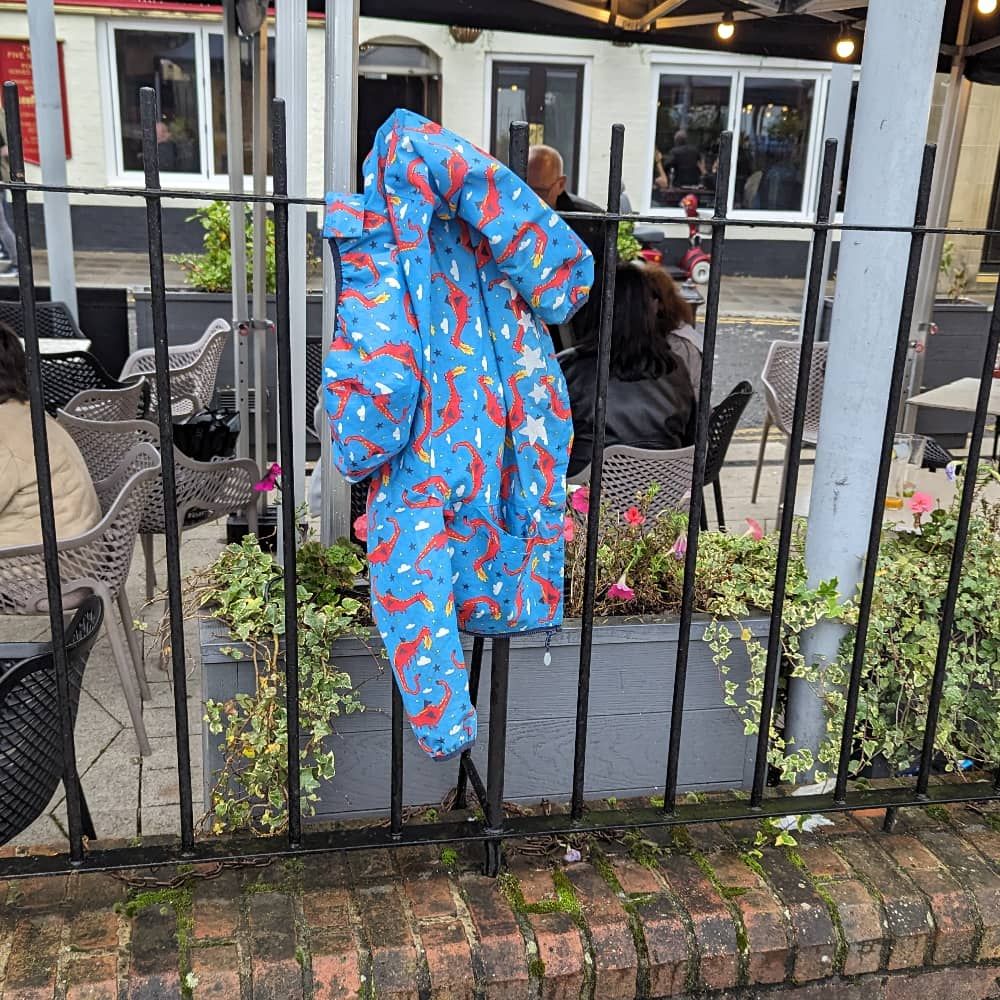 We're living in Schrodinger's autumn. I needed to turn on the lights to shower on Monday morning and by Friday I needed the lights when getting Piglet up. Yet. There's not even been a passing chat about turning the heating on and the trees are still verdant. Meep.
Music recommendation this week is to type "daylist" into Spotify and see what the algorithm makes of your regular mood. I'm listening to "irish folk americana monday evening" as I write these.
Piglet is ready for half-term. The predicted shock of full-time school has her blitzed. They're doing mindfulness and we're getting snippets of self-care. A sing-song "Are you listening? Yes I'm listening" has been appropriated. One evening she announced her safe space is home. Or any time she's with us. They get you right in the feels, they do.
She's not the only one that's tired. Illness has finally caught me and I lost my voice on Thursday. The trip to the pub to watch the PSG match with Belgians likely didn't help, but I'm mostly blaming workload. Three people have left our group in the last two months and currently I'm backfilling for them all. A touch frazzled. My respite has been setting up an avatar on Teams and wasting the first 10 minutes of each meeting demoing the reactions and encouraging everyone else to pratt on. The facial structures all appear to be mid-Western American, regardless of how you design them.
Weekend mornings aren't for recuperating any more either. The Wee Free Man learned to roll from front-to-back on Wednesday, cracked back-to-front on Thursday and was the rolliest boy by Friday. His baby gym is suddenly too small and my morning coffee has moved from the couch to sprawled on the floor, hot drink safely out of both of our reaches.
Capitalising on the unseasonable warmth, as soon as the coffee is cold, we're out. Saturday we said goodbye to all the Shauns before heading down to the Baltic—he loves the senso room—and the Glasshouse. Spotting the heavens had opened, we decided to make a break for home and realised we'd dropped Piglet's jacket somewhere. Dad rules meant Piglet got my jacket and my shoulders while I got damp. So cosy was she, that she fell asleep up there and I had to stop by the pizza place to reinvigorate her. Cash only, but no Southern European will look at a sad child and stick to the rules. She was happily chomping when she spotted her jacket, hung on the Wetherspoons railings by a kind soul, and we could head to the bus stop to meet The Chef and Wee Free Man, via the offie to get some celebratory drinks. A touch of classiness to our bedraggled appearance.
That evening while out on errands I slipped on the corner and managed to hyper-extend my knee. Age. Just. Keeps. Coming.
Wallington again on Sunday for river splashing, bird song and log climbing. It was in the car park that I noticed our lack of car keys. A nice lady overheard The Chef and Piglet talking about them, while I was haring around the visitor centre and cafes, and handed them back. I'd dropped them about 10 feet before the car. The pub was kind enough to hold our table. I'm undecided if we're on a run of good or bad karma.
A binge of Ghosts eased frayed nerves. Now to wait till Christmas for the big blowout.
8 October 2023
---
Previous post
Weeknotes 149: I've got all my eggs
This week's Bank Holiday means I didn't work a Monday in August. I could get used to that if it wasn't for that whole mortgage business. We spent