Weeknotes 096: Spider-Man is absolutely beautiful
You can tell two things from that picture. One; I'm not as young as I once was. Two; Morrisons has a great selection.
As a newly minted wise sage, I guess it's fitting to share the life advice I've picked up so far. A forty now I'm forty sorta thing. Here it goes.
Be kind.
That was a shorter list than expected.
Back in regular weeknote territory, I've been stuck into the extraordinary1 Piranesi. It's banished my reading ennui and the tsundoku is being attacked, as is bedtime.
In this week's cooking class, Piglet and The Chef made sweet pizzas and Piglet learned the eye-opening joy of licking chocolate sauce off the spoon mid-cooking. Meanwhile, I was eating a banana missing a toddler-sized bite out of the top. I finish more fruit than I start.
My MOT is back from the GP. In precis, it asked if I was running yet. I've taken the hint and checked in on my base and re-aimed at my toes.
Between jogs, people eventually got paid.
It wasn't only my thirties that finished this week. Piglet won't be going back to her nursery. Her final week of blindsiding teachers with some excellent non sequitur. Cake on the last day and cuddles with everyone and that's that. She took the day itself well but there's clearly emotional turmoil going on and she keeps asking if we'll pick her up from school or leave her there. Stuff still to work on.
We celebrated the end of nursery with another trip to Brockbushes funfair. Piglet got her face painted and bossed the rides. I got to hear a happy hardcore dance remix of Edith Piaf singing La Vie En Rose. In a way, we're both winners.
For the aforementioned weekend we left Piglet with grandparents and me and The Chef ate at Riley's Fish Shop, Smoke & Sear and Cook House for their steak event. A few pints in a sunny Free Trade capped a fattening and cholesterol maintaining weekend of the middle-aged version of excess.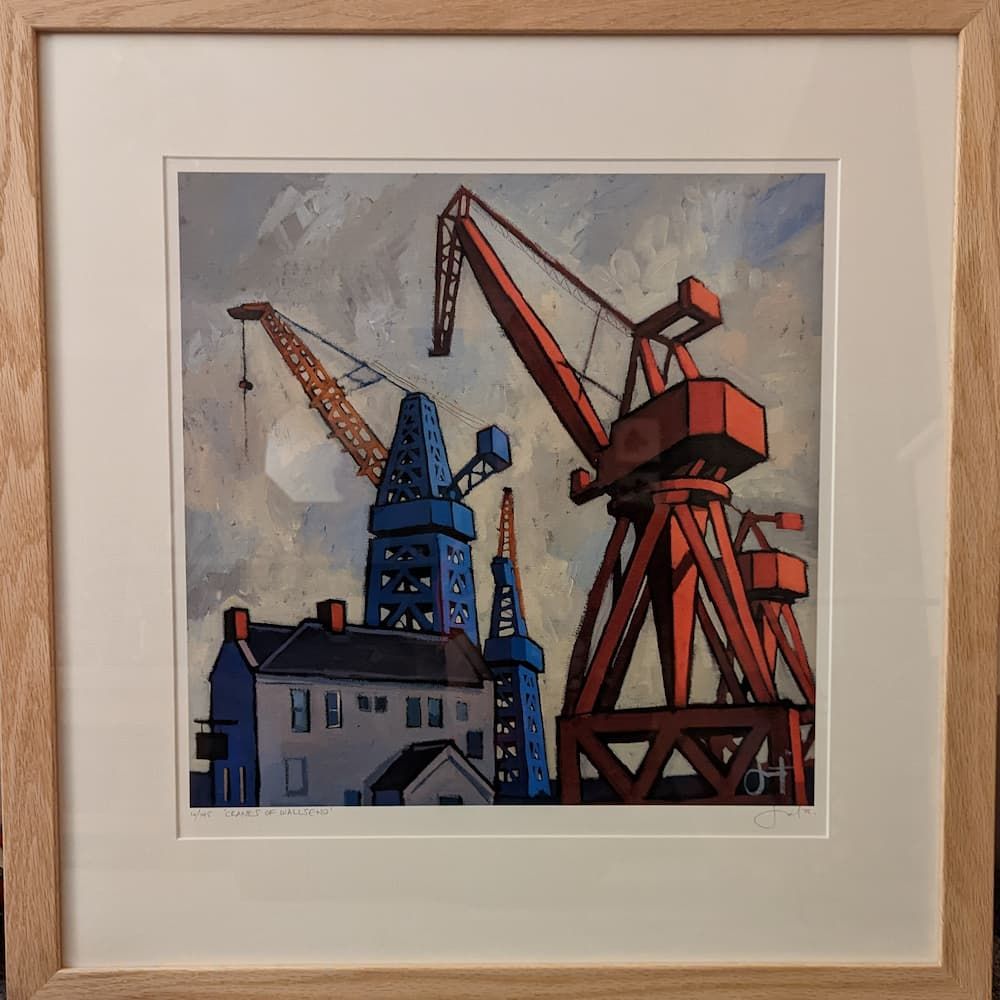 As well as too much whiskey, The Chef cobbled the family to buy the my long wish-listed Cranes of Wallsend by Jim Edwards. It's baffled most of the family—"it's just some cranes, why did it cost so much?"—thus clearing the art criterion of belonging to the beholder. And they're not wrong, so why do I love it (for reasons beyond the fact that it's stunning)?
I know where he was sitting when he painted them. It's just down the street from where I grew up and where I ended up buying my first house. When the shipyards were open, they used to put lights on the cranes and the rigs at Christmas. We would get bundled up after dark and shuffled into the back of the car2 to drive along Hadrian Road to look at them. Dad would always point out which one he was working on. The cranes and the pub are long gone. In fact, when he was painting them, the pub was already closed and the cranes on their final jobs, which adds a layer. It's a memory of a memory in the painting. Looking at it is another step removed. An elegy to a part of my childhood and a route to adulthood that I didn't—and couldn't—take.
The papers aren't going to be ringing to poach their new art correspondent. I do love it though. And they're some might fine looking cranes to boot.
---
What a contradictory word extraordinary is. Break it down and it's meaninglessness. Shorten it and it's modern internet speak and more honest in its meaning.↩︎

Variously, a Ford Cortina, Austin Maestro and Rover 200 in case the cards weren't clue enough of my age.↩︎
21 August 2022
---
Previous post
Weeknotes 095: Boobies have little balls
A week bookended by celebrations. We took Monday off to head to Bamburgh. After a leisurely benedict with the duck eggs from our neighbour, we got
Next post
Weeknotes 097: I live in the boot now
#Backlog