Weeknotes 077: Yer I am.
We started the week looking after both toddlers while our hosts worked from home. A minor repayment for the weekend. Dividing to conquer we let them enjoy independent play and had a calm, fun morning.
Piglet spent the car journey north alternating between naps and cackling with her silicone T-Rex hand puppet. When she last met my uncle she cried the whole time. Fair to say that's changed. Besotted. She tried to be the same with his kids, but teenage boys gonna teenage. Piglet got the comfy bed while we took the sofa bed beside the living room. Ofsted in the area and the news on the TV added a keening edge to the evening wine.
We've been negligent following Ukraine, but I'm unsure what we get from daily updates beyond a feeling of horror. Maybe we should let ourselves feel more of the pain. These last years have been shit though.
I was invited to climb into Piglet's bed to hear updates on the lives of her cuddly toys and for her to show me the put she's been practicing in the mirror. The Ironbridge council were out painting benches and planting before the tourists are unleashed for half-term / Easter / nice weather day-trips. Beating the rush meant we got an excellent park to ourselves and we were under no time pressure for a pleasingly old school lunch. A sling nap while we walked then on to Enginuity to push sand, water and cogs. Work chose that point to text about non-essential stuff and break my forgetful reverie.
Back in Telford the more sociable teenager was looking after Piglet and interrupted us to ask for help with anything suitable that wasn't Baby Shark. And that was the fateful moment Piglet met the "chicken can can".
We headed to Leominster midweek to visit a friend. My norovirus caught up with Piglet at just the worst time. She'd been saying her mouth hurt and—when tootling through motorway roadworks with no hard shoulder—unleashed her vomit all over herself, The Chef and her car seat. Not as bad as the incident. Pretty icky though.
Cleaned down, she was with a lyrically monotone bedtime story. Bless awkward teenage boys. Less awkward when riffing with the family in full force. A fun one to sit on the sidelines for. After the kids cleared out we got the story of distance between my uncle and his dad. He's far from the best Granddad the world has ever seen either. And Piglet isn't going to get much of a great-granddad either. Families.
Here's another good story. This time about families.
We checked out Telford Park before hitting the road. It's much better than it needs to be. Which is a good thing for a town and a welcome balm in sideways sleet.
Back in Newcastle The Chef was sent out for the morning with Piglet while I carried on digging the trampoline hole to the sounds of Florence. There's a lot of soil comes out of a hole.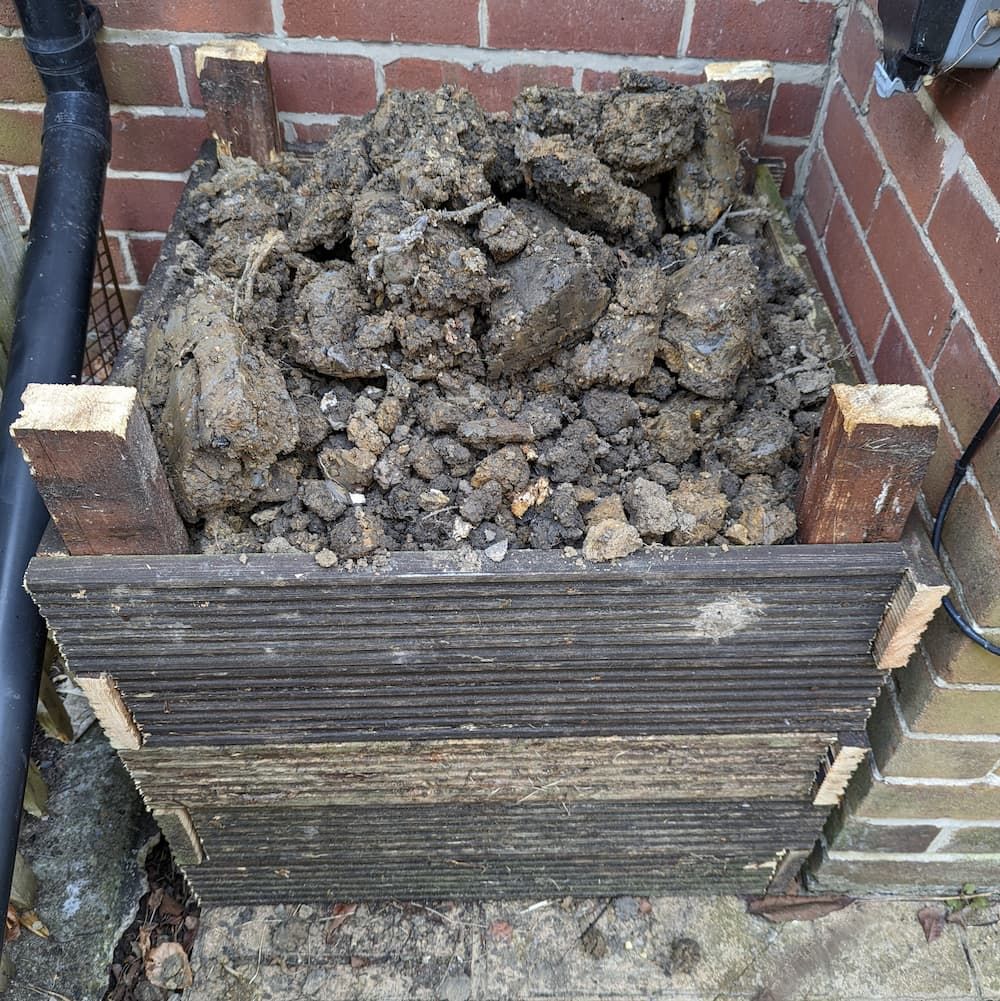 With the box full, I painted the swing before the girls came back and we headed out to see lions and play in Fenwicks at Piglet's request. We couldn't find anywhere good to eat, so after reading Never Tickle a Tigerwe bought a banger of a rib-eye.
Inspired by an episode of Moon Knight at Telford, we binged on Wandavision. Too late to watch a movie, so we watched 3 hours of TV instead. The Chef gets invested.
Piglet met a "walking, talking baby"1 outside the bakery which she was very pleased with. So much so, that she stole most of The Chef's sausage roll at lunch. She was still smiling when we arrived at Lǎolao and Lǎoyé's for hot pot and their gushing.
It was rinse and repeat for Sunday. The Chef gardening in the sunshine while Piglet played on her swing and I built another soil box. There's a lot of soil comes out of a hole. Piglet came over to help hammer before we visited my folks for roast and their gushing.
A weekend demonstration that Piglet has better grandparents than me. And I couldn't be happier for her.
10 April 2022
---
Previous post
Weeknotes 076: That elf's name is rhinovirus
Last week's packing paid off and we departed on time. Nearly. Constant rain on the drive was worrisome, but we got lucky with Wetherby chargers and
Next post
Weeknotes 078: I said what I said
After two weeks, it was a less than enthusiastic return to work. A morning of email and afternoon of meetings. It'll be fun again at some point.