Weeknotes 052: … … I want a pat
Through missed weeks, these don't add up to the equivalent real-life passage of time. These aren't the one year anniversary of weeknotes. I missed that a month ago. Oh well. Happy thirteen month anniversary instead!
We were joined on the park roundabout by a younger kid and her grandad. She was near-verbal, spouting gibberish with the candence of speech. The grandad shared that he thought we all learned to sing before we speak. Which reminded me of a quote that I can't find. So congratulations Park Grandad, you get the credit.
The afternoon held a toddler meet-up. The Chef explained that it's not the type of things that dads go to and I was left to plant out the winter flowers, turn over the worms and shovel a wheelie bin's worth of weedd. Piglet returned—having staked her superior claim to the door handle from one of the other kids—to solemnly tell me about the watermelon she'd eaten.
We accidentally ended up eating out again on Monday. That same album of terrible covers playing. Now Piglet has ditched the nappies, we've got her salopettes instead of a puddle suit for those few vital seconds. Worth it.
Her internal world is growing. Overheard her reciting episodes of Hey Duggee when out on a walk. And she'll sing Hush Little Baby to herself. Albeit she gets stuck in a loop of buying mockingbirds. Which, to be honest, is a better remedy to a non-singing bird than the adventure the actual lyrics go on. The washing basket now doubles as a bedroom sledge/cocoon. And I've convinced her that there's an On/Off switch inside everyone's nostrils. If she finds a sleeping adult—usually The Chef—she'll jam a finger up their nose to wake them up.
I'm bored of contractual gubbins at work. It needs to be done. I just wish it could be needed to be done by someone that isn't me. I distracted/rewarded myself with another round of office tarting. I now have an artfully arranged YouTuber background for video calls and a succulent shelf.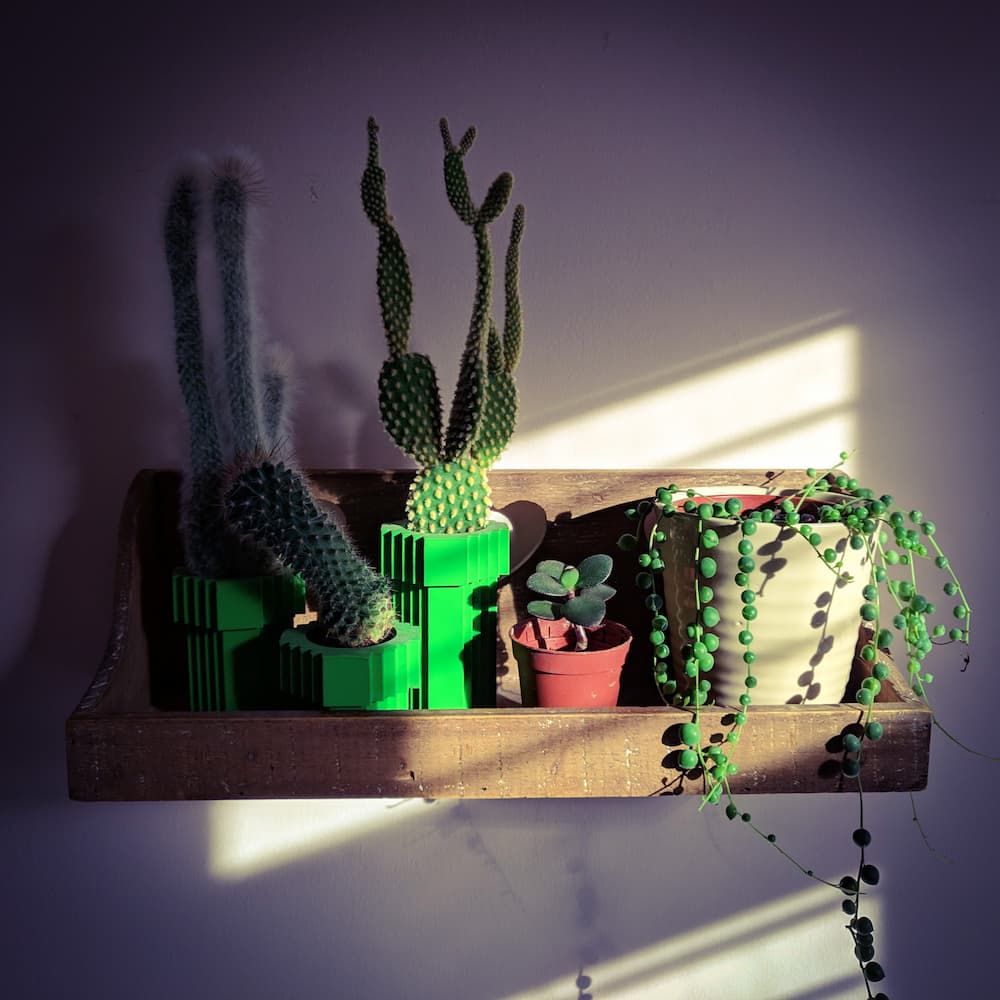 This is the same as productive work.
A sombre and autumnal tone to the music this week. Gia Margaret, Beck and Low.
Speaking of albums, this Moo Card player is all kinds of awesome. The kind where I overcome inertia and copy. It's another link from Phil Gyford. He's very good. Go read him.
We used the pickler to build Piglet a den. Our first where she cared, rather than our last. It's better served as a den frame; she needs more derring in her do now. At Tumbles—once we got her off the trampoline—she scaled the gym ladders, gloated and shimmied down without a worry.
Steak night was moved from Friday to Saturday and what a steak to finish the week on. Shame I couldn't finish the steak for a sense of poetic symmetry. Too full and uncomfortable a stomach. Here's hoping that's not ominous.
3 October 2021
---
Previous post
Weeknotes 051: What makes you happy? Mama
Meadowhall Travelodge wasn't as bad as anticipated and we slept for another glorious 9 hours. A sterling start to a Sunday. Our timing worked out
Next post
Weeknotes 053: This is so humiliating!
Keen to get a start on the week, Piglet gave up on sleep by 5 am. Mid-morning and both our moods were fractious. Tantrums were allayed by turning