2021 Reads
1. The Dispossessed by Ursula Le Guin
The subtitle is "an ambiguous utopia". And I can't top that as a review.





2. This is how you lose the Time War by Amar El-Mohtar & Max Gladstone
Punk-stylised letter-writing sci-fi romance that's popular enough to float across my feed repeatedly, but it was the Desert Island Discworld podcast with El-Mohtar that swung it for me. I liked it.
3. Fake Law by The Secret Barrister
Many politicians are called out, but Chris Grayling's malicious, negligent incompetence runs through this like a stick of rock. And despite the anger leased on his many failings, it's the solipsistic media and proprietary legal archiving that come in for the greatest ire. I guess the one hope I have left for the current Labour leadership is for this to get righted if they get into power.
4. Thursday Murder Club by Richard Osman
Sunday night TV: the book. Enjoyable in the mildly engaging way expected after a big roast a couple of glasses. Diverting without being challenging and I think I'll tap out of the incipient series here.
5. Foundation by Issac Asimov
There's a noticeable absence of women. I guess equality wasn't one of the things expected to develop in the 220 centuries of empire.
Which isn't the only anachronism. Someone's phone goes off while their in the bath. Which was a thing back in the day.
Along with Dispossessed, Dune and Roadside Picnic I've been doing the, ahem, foundational Sci-fi works recently.
6. Foundation and Empire by Issac Asimov
Maybe it was better before he introduced female characters. The characterisation of Bayta is too frequently cringe. But he offsets and redeems with beautifully phrased sentences:
The sea became wrinkled with nearness
or
[the] soundless sibilance of Bayta's voice.
The 1950s was a good era if you wanted to read about mutants in your SF. It was also a good time for three-act structured trilogies.
7. The Maker of Swans by Paraic O'Donnell ★
Magicians magically told.
Then I read this and my heart broke. You can read the lines stolen and repurposed by his characters—often the villains. And the metaphor of Navaire being undone by nature…
8. The Second Foundation by Isaac Asimov
Two novellas spliced into a book. Persevered to complete the set, but my heart wasn't in it. I prefer LeGuin.



9. Bring up the bodies by Hilary Mantel ★
Reading the foundation trilogy got me to buy Gibbons' Decline and Fall. Even the abridged version of that thing is biiig. I chickened out and dived into Part 2 of the Cromwell trilogy. He's starting to act as the other stories portray him; a medieval Beria.
Mantel has such sympathy for him, that you can't help but be enchanted. I'm going to wait for a good opportunity to binge before starting the last book.
10. Intimations by Zadie Smith
Collected pandemic essays. I read them as it was easing and the essays on its rise already seem of a place. A time of upheaval preserved in the aspic of words. Highlights are Contempt as a virus which remakes my clumsy Brexit as Racism comparison with finesse. And the elegiac eponymous capstone, which looks for the beauty in everyone.
11. Brigada by Enrique Fernandes ★
Short bastards break and fix the world. The story is lean and there is an alternate reality where, with better funding, the series is longer. Even with the brevity, I confess to writing myself a character crib-sheet to keep up.


12. English Pastoral by James Rebanks
Autobiography by a farmer doing rewilding. Different ethos to Knepp Farm and one that I'd probably like less at first look, but prefer as I saw it through a decade or more. And then possibly less again a decade after that. What I'm saying is, I don't know who's "right" but I'm glad both options are being tried.



13. Immortal Hulk by Al Ewing & Joe Bennett
An actual ongoing comic series. Look at me keeping the industry alive or something. The shame is, it's not complete and I'm stuck on a monthly schedule now to see how the story arc will bend. It's been a lot of fun so far though.



14. New X-Men by Grant Morrison & Frank Quietley
What if we follow through mutants as stand-in for oppressed minorities further? Cultural appropriation. Fetishisation. Yet, still demonised.




15. Planet Hulk by Greg Pak & Carlo Pagulayan
When the good guys were bad and the big guy was happy. Plundered for iconic scenes in Thor: Ragnarok which at the time was excellent, but now I'm sad that I won't get a full standalone Planet Hulk.



16. Sandman: Preludes and Nocturnes by Neil Gaiman & Sam Kieth
This is more straight-laced than where the series goes. Not the auspicious start I was anticipating.



17. Thud! by Terry Pratchett (Re-read)
Comfort reading. The dadness of it cuts closer these days and I could feel myself brimming with Vimes' fire when he was washing down the underground river fighting a demon. We share the bedtime stories in our house which means I'd not have the ritual to cling to and in the same situation I'd go on a berserker rage in a mine. Beats lockdown, I guess.
18. Three Body Problem by Liu Cixin
Really quite good. Took me half a book to realise it was a traditional aliens vs. humans story. I'm worryingly ignorant of the history of China, so kept dipping out between chapters to do a spot of Wikipedia-ing. And I later found out the chapters were reordered in the translation to cater to Western ignorance by front-loading the historical information.
It's unashamedly political and if I revisit it in 60 years, will it feel as dated as the Foundation books? I'll have to cut back on the bacon to find out. I think I'm down for the rest of the series.
19. We3 by Grant Morrison and Frank Quietly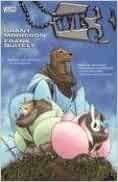 Comic one-shot about sad animals getting abused. About as depressing as that sounds. My least favourite of the Morrison/Quietly's so far.



20. Gnomon by Nick Harkaway ★
Sci-fi, fantasy, tech-dystopia affair. Read parts of it with a fever and ended up having other people's dreams. That kept me awake and I managed a serious overnight binge leaving me wrought. It's an apt way to read it, I think.
He drops a lovely fourth-wall breaker on the reader near the end which made me smile for a day.
21. Station Eleven by Emily St John Mandel
A bird flu-like disease kills almost all of humanity. A near-miss in real life (but coming as the permafrost melts) and it's a good thing I didn't read this last year. Vaguely optimistic, but carrying the bleak view of humanity that pervades North American apocalypse fiction.
22. Remains of the Day by Kazuo Ishiguro
★★
Wow. I can better express myself for having read this. And need to for having read this. The film will likely be on BBC at some point and I've my eyes peeled. Hopkins, Thompson and Reeves are superb casting choices and I hope it lives up to my imagination.
23. The Wee Free Men by Terry Pratchett (Re-read)
Tiffany Aching beats up some nasty elves and gets ready to be the new Granny without becoming the new Granny.



24. A Hatful of Sky by Terry Pratchett (Re-read)
Tiffany Aching shares her head with Dr. Bustle and is now better at pub quizzes.



25. Wintersmith by Terry Pratchett (Re-read)
Tiffany Aching kisses an elemental not called Swamp Thing but who may be as powerful.



26. I Shall Wear Midnight by Terry Pratchett
Tiffany Aching jumps over the fire and the Cunning Man doesn't. Poor choice by one of them.
The Tiffany book that plays closest to our current times with the incipient anti-vax movement and the "pay nurses, hang paedos" crowd.



27. The Shepherd's Crown by Terry Pratchett (Re-read)
The One Where Granny Dies. The one where Tiffany doesn't become Granny. The one where Terry writes "The End". And the one where the author description plate says "Terry Pratchett was".
28. Giovanni's Room by James Baldwin ★
Semi-autobiographical raging at the injustice of the world from an only moderately likeable narrator. Baldwin. We were lucky to have him.



29. Klara and the Sun by Kazuo Ishiguro ★
Not as good as Remains of the Day (few are), but still so delicate, caring and deep.



30. The Circle by Dave Eggers
This reads like Eggers got bored during a Silicon Valley Keynote and recast the personalities on stage as deep sea creatures and enjoyed himself so much that he turned it into a book. Granted, I've never been to California and it may be that the myopia of the characters is observant and true, but even from my privileged world view, many of the book's central characters' arguments fall down with the merest puff of a breeze.
I can forgive the ingénue narrator—a perfectly acceptable trope—but the supporting characters are drawn from too narrow a slice of life for the book to raise above moderate. In a USA where ~1/3 of the population don't have a Facebook account, I can't not imagine greater resistance than just that of an artisanal (it's important that he's creative; but in a homely, hand-crafted way. Don't contrast Elite with Elite) furniture maker.
31. Light Perpetual by Francis Spufford ★
Our Friends in the South
Caroline Crampton bought a set of pens explicitly because Francis Spufford uses them. She follows up the turquoise-coloured anecdote with a list of recommended books. The library had none of them. But it did have this. If the rest of his output is this good, I'm in for the haul. If you want the full middle-aged-Dad-musing-on-the-meaning-of-existence experience, read this, coupled with Ocean at the End of the Lane.
32. The Variable Man by Philip K Dick
Solid 50s pulp. Rhymes with Foundation, but it's smaller scope and aims have dated it less. It is still "Old man yells at cloud" in it's outlook: weren't people just better back in the day, eh? Not like the kids these days, trapped in their Cold War and not knowing how to build stuff.
33. Jonathan Strange & Mr Norrell by Susanna Clarke
I think I'd get a better time-to-reward ratio from watching the TV miniseries. There's not much exploration of the characters inner worlds that would be lost in watching actors do their thing.
It's likely a case of fiction being a context rich genre. I don't have the context for much of the philosophy being sent up, so the subtle points and jabs are too dull to reach me.
31 December 2021
---
Previous post
Weeknotes 062: Love you too.
#Backlog
Next post
Yearnotes 2021
Our interactions with the NHS and raising Piglet have set a loop in my head that life is built from chains of lives. There's been a trainee at all