2019 Reads
1. Children of Time by Adrian Tchaikovsky
Generational space-opera. Dystopian fiction with a happy ending. Like The Power, reads more as a good idea than a good book, hewing too close to cliché too often.
2. Father Christmas' Fake Beard by Terry Pratchett
Roald Dahl-esque short Christmas stories. An effect only enhanced by the Quentin Blake illustrations. Less cruel and more Pterry though. I've read the The Computer That Wrote to Father Christmas in a different compilation, and it's the standout here. Expecting it to be a fun read aloud with the kids in a few years' time.
3. The Road by Cormac McCarthy ★
By God this is bleak. But beautiful. I'd decided early on there was only one "humane" ending. And McCarthy skirts it, so in a way, it's almost optimistic.
As a post-script, after finishing it, it seemed to crop up across media, all focusing on that scene, so I'm glad I had the chance to read it first.
As a second post-script it's come up again in comparison to John Lanchester's The Wall (to be read later) and described as dystopia for middle-aged Dads. Apt.
4. Static Ruin by Corey White
The third and final of the void witch trilogy rattles along at the same breakneck pulpy pace. All in all, an enjoyable little set.
The necessary 18 rating would probably make the audience too niche for TV to touch it, but the pulp styling lends it to "Firefly-now-that-you're-older"
5. Kindred by Octavia Butler ★
I could see this being on an Oprah list, which would normally be enough to send me running to the hills. But it's really good. I'll be recommending this one to the scifi crowd on the basis of the time travel and looking forward to hearing about the historical fiction. A book that has both humanity and the 1970s threaded through the subtext.
6. Letters of Note by Shaun Uster
Coffee table collection of 100 ish letters from the great, the good and the not so good. Typical of the compendium format, some can make you laugh, some can bore you and some make you huskily complain of the dustiness of the room.
7. How Democracy Ends by David Runciman
The short book version of a talk, that comes from a podcast, that I couldn't wait to read. F■■■, I'm a parody.
8. The Periodic Table of Cricket by John Stern
An ensemble of CrincInfo bio pages. Simple enough read for someone not versed in the real history of the game. Loaned by a mate, so accompanied by the mildly annoying compulsion to read a book that would otherwise hold no interest. The archetypal 3 out of 5 stocking filler and filler of bath time when a "real" story is too demanding.
9. How to Survive the End of the World, When it's in your Own Head by Aaron Gillies
Anxiety as told by the anxious. I'm better informed for having read it. Reading some of the middle chapters while having cortisol-induced insomnia might have been a touch cliché though.
10. Circe by Madeleine Miller
★★
F■■■ing loved this. I'm only ten books in, but I can see this being the recommendation for the year.
11. The Little Snake by
AL

Kennedy ★
In which I cried when a snake danced with an old couple and his heart went pitpatpitpat as he learnt another form of love. I'll be recommending to the Little Prince crowd as an unofficial sequel of sorts.
12. The Good People by Hannah Kent
I read Burial Rites last year and enjoyed Kent's prose style and true-fictional telling of a historical murder. The Good People riffs on the same theme, moving from Iceland to Ireland in the same early 19th Century time period. It's likely because of this similarity that I found this harder to engage with.
Whichever of the books I read first I was going to find the more immediately readable, but this is the better of the two to recommend. Its driven by the fundamental wrongness of two of our three protagonists. I'm a sucker for the "rightness" of the rural pastoral over the urbane Urban. And Kent knows I'm in a sympathetic crowd. She uses this to ratchet the dread and frustration as the appeal to the old ways leaves a trail of unnecessary death. And the right options made to sound so unlikeable.
How do you try well intentioned ignorance?
13. Lincoln in the Bardo by George Saunders ★
Poignantly entertaining story of a child's sickness (death, if we're honest). If entertaining is the right word to use in those circumstances.
14. The Leopard by Tomasi di Lampedusa
Thoroughly opulent prose. Has the tarnished decadence of golden era Hollywood. (It wasn't a surprise to find out it became a movie for a 50 year old Burt Lancaster in 1963.) Driven by style and character, it's a thinly plotted family biography of a dying aristocracy written by an eventual branch of the tree. Lampedusa doesn't hide the irony he feels for his predecessors.
15. Saga Vol 9 by Brian K Vaughan & Fiona Staples
They're taking a break for a bit after this one. They're probably rinsed too.
16. My Favourite Thing is Monsters by Emil Ferris ★
Wowzaz this is good. The biro drawing make you really appreciate the effort in making a comic. I read afterwards that she spent two days per page, and it shows. For all that I lack patience for the freaks and outsiders in real life, I see them as fuller humans in literature. Which makes me a ■■■■ I guess. Should really use the awareness literature brings for growth, patience and curiosity.
17. Poems that make grown men cry by Anthony and Ben Holden
Melvyn Bragg made me cry with the intro to his chosen sonnet.
Hokku's poem of loss broke me. Tagore, again.
Orpheus. Hermes. Eurydice. sent me to buy a book of Rilke. Sandra's Mobile, to buy Dunn's Elegies.
Gwendolyn Brooks made poetry from abortion.
Nick Cave chooses a poem of unbearable loss born.
Bukowski and his hell of a dame.
Derek Walcott and Seamus Heaney. Multiple entries. Every time.
18. Roadside Picnic by Arkady & Boris Strugatsky
The hum of a ventilator captured on 35mm in a 70s scifi. Even though it's mostly set outside.
As with Solaris, humanity fails it's first encounter. Maciej Cegłowski is right: Eastern European scifi explains this century better than that of the West
19. Princess Mononoke by Hayao Miyazaki
Concept art / storyboard version of Princess Mononoke that is more of a Japanese Beauty and the Beast. Which I now want to see filmed.
20. A horse walks into a bar by David Grossman
White hot fury of an onstage breakdown. Bar the occasional narrator flashback, 200 pages told straight from the club; comedian, audience and judge. Which was a neat touch, writing the story's judge in the first person.
Addendum I've now watch Hannah Gadsby's searingly brilliant Nanette. Not a breakdown, but as hot a flame held to the audience—to me—in the search of humanity. It explained the grammar of jokes to give me the words to articulate the repeated motif of Horse walks; jokes have tension and release. Stories have tension, release and an ending. This is a story told through looping jokes.
21. Order of tales by Evan Dahm
Prequel to Rice Boy, set in the World of Overside 400 years earlier. I've no evidence of this, but the One Electronic is either the inspiration for Prince Robot in Saga or they're both drawing on a reference I don't know.
22. The Infinite Tides by Christian Kieffer
I read this over the course of jury service, sat on a faux-leather chair by a formica table in a souless airport lounge of a waiting room, apprehensive that I'd be asked to do something Important. To that end, the book initially frustrated me. The stories of maths and space rang hollow; an artist playing pretend in the world of science. But the confines of juror's room meant I ploughed on. After a while the better story comes through. Loss as told through action. Tarred only by a magical character appearing in the final chapter to explain life, the universe and everything.
A qualified recommendation: start around chapter 5 and stop after chapter 19.
23. The Wall by John Lanchester
Another in the middle-aged-man distopian fiction genre. Page-turner enough that I rattled through it in an evening and a bit. The natural comparison is with The Road, which is the better story more poetically told.
More than the climate disaster, the core theme to return to is the Generational divide. Confected in real life, playing out here in the brutal shock of the change. A curtain that can't be drawn or crossed.
Solid story telling of our near climate future, but probably not going to be one I recommend too often, beyond using it as an example of generational dystopia.
24. The Incal by Moebius & Alexandre Jodorowsky
Marvelous 70s Judeo-Christian sci-fi meets French philosophy and trashy TV. Loved it.
25. The Silk Roads by Peter Frankopan
I was mildly upset with Life of Henrietta Lacks not being the book I was expecting, but coming round to the idea that it was the right book for the story. It wouldn't be one that I would normally choose, but I enjoyed the journey.
Silk Roads also upset me for not being the book I was expecting, but this time I feel more innocent in the misunderstanding. The story of the silk roads shouldn't feature significantly more chapters dealing with Britain than China.
It struck me that the intro to Gombrich's History of the World, whilst Euro-centric, felt the need to explain that he'd shoved a few extra chapters in the English version because, for the most part, Britain just hasn't been that interesting. A view not widely held amongst Etonians that go on to Oxbridge.
There is much to like about the book: I'd really quite like to go to the steppes now, but it's marred by uneven temporal and geographic focus. I'd happily trade the minutes of US official meetings leading to Iraq I in favour of more colour to the Eastern end of the road: the Indian spices and Chinese silks that got this political route opened and maintained.
26. Elegies by Douglas Dunn ★
Her pleasure whispered through a much-kissed smile.
A heartbreaking gift for an opening line in this collection written after the death of his wife. Grief told with poetic incompleteness.
27. The Ascent of Rum Doodle by W.E. Bowman
The cover blurb makes reference to Three Men in A Boat and Catch-22, leaving Rum Doddle an impossible bar to clear. Still disappointed by how much it missed by.
28. Mortal Engines by Philip Reeve
I'm getting too old to read and review YA books. It's not its fault that it's not for me.
29. Scottish Folk and Fairy Tales by Theresa Breslin and Kate Leiper
Not too old for folk tales though. A pleasant diversion with some big colourful pictures. One too read with bump when it's no longer a bump.
30. Northern Lights by Philip Pullman
After grousing that I'm told old for YA, when reading Mortal Engines, I'm back at it, but this time with a small baby on my arm. And this is better written too. Moments of genuine tension, gore and SFW eroticism that would make it a forever favourite if I'd read it when younger. The only criticism reading as an adult was some clunkiness in the action scenes. Looking forward to the other books in the series.
31. Shape Up by Ryan Singer ★
I read a management book. I actually didn't hate it. Urgh. Let me take a moment to scrub my soul.
The premise of the book is yet another project management system. As someone who's worked waterfall, kanban and Agile without great feelings of joy, it was nice to read about a system that makes sense. Now to share it with some "thought leaders".
Yep. That did it. I'm vomited on myself.
To be kinder to the book though, I can compare it to when Lean Innovation did the rounds at work. I was asked to read it and it quickly turned into an abandoned book. I hated reading that book. Bloviating language around self-aggrandising examples that smelled of pub stories reworked for a happier narrative, details dropped and changed to fit. Shape Up reads more honestly. Singer is happy to leave failing examples between the lines. You can feel the time someone left the company because it wasn't working. But he doesn't need to write these warts in. It's a style guide, not a biography. That you can infer the human in it is its strength. With a fresh, vomitless shirt on, I'm off to recommend it.
32. The Seven Deaths of Evelyn Hardcastle by Stuart Turton
The blurb asked me to imagine Gosford Park, Inception, Murder on Orient Express crossover-fic. Which both dates the reviewer and is a decent plot summary.
To humblebrag to myself, I guessed the killer quite early, fitting a Homo narratus shaped hole into the story. But solving the murder still leaves a 100 pages of story to wrap up. There's an Ugly Rich Girl Who Can't Feel Love trope towards end that's a bit tacky, and a very glossed over rape plot. If you can live with that, it's otherwise enjoyable.
33. Heroes by Stephen Fry
As with Gaiman's Norse Mythology, I suspect I'd have enjoyed this more if I was less familiar with the stories. Fry veers to the too knowing too often and I prefer the (translated) originals that he plunders for this compendium.
34. The Subtle Knife by Philip Pullman ★
As good as the first. Definitely got misty-eyed for the irredeemable manliness of Lee Scoresby.
35. The Book You Wish Your Parents Had Read by Philippa Perry ★
This book is unerringly kind. Authentic to a degree that I want to put every lesson in to practice.
We need to tolerate frustration, be flexible, have problem-solving skills and be able to see things from another's point of view.
Implicit throughout that to is kindness and love.
36. End of the Affair by Graeme Greene
This is so godammned manly.
37. Zagazoo by Quentin Blake ★
Good ole Quentin. This is just lovely. Cannae wait to be a pelican.
38. The Amber Spyglass by Philip Pullman
Rheumy-eyed towards the end of this.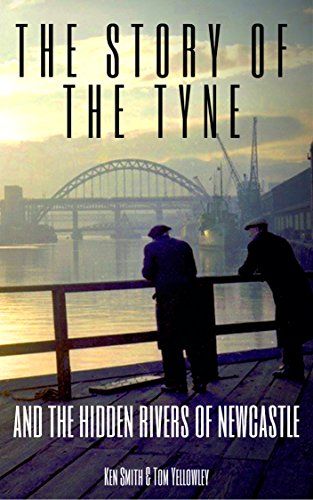 Local history hoped from a forum/blog, so caveat the prose quality, but a diverting short book.
More interesting to myself, is why I came to read it. A CityMetric article about the rejuvenation of Dresden following population contraction and economic downturn mentioned the unculverting of the city's streams as part of regreening and adding natural character.
Does Newcastle have culverts streams that we could uncover as part of regreening and adding natural character?
My continued mental breakdown set me off to find the aforementioned blog come book. And I can add the culverts to my placebuilding map…
My deal is, if I share the map with anyone, I'll call a therapist the next day.
40. La Belle Savage by Philip Pullman
Tonally darker than the Dark Materials trilogy, Pullman knows his readers are likely older. Two islands fewer and one more boat chase, and I think it'd be stronger.
41. Being Ecological by Timothy Morton
Less a green self-help book and more a philisophical rehabilitation of Nazi-loving Heidegger. Good to read now, before the oh-so-achingly-of-their-time references become unintelligible. A recommended read?
That's unfair.
I raced through the first hundred pages enjoying the philosophy tour. Then I saw some reviews about the wearying prose which I let get to me. And now I can't review this book cleanly. Which, given its ecological moral feels apt.
42. The Girl and the Dinosaur by Holly Hughes
Piglet is still too young to sit through this, so I've taken to reading it to her in two sittings. It has a lovely rythym to read aloud with plenty of character beats.
31 December 2019
---
Previous post
2018 Reads
Pop-sci of human genome and its place today, couched in the view from history. This book is firmly in my wheelhouse, with it being genetics told
Next post
100 words 001
Attempt two to write exactly 100 words, once a day. Inspired by Jeremy Keith: "When it comes to writing, there are no shortcuts. Either you're